Hilltop Camper & RV in Twin Cities
Whether you enjoy traveling across the country or closer to home in the Land of 10,000 Lakes, few accommodations are more affordable or more comfortable than a new or used RV from Hilltop Camper and RV in the Twin Cities. Our Fridley location is less than 10 miles from downtown Minneapolis and we offer full services: sales, rentals, repairs and parts. Hilltop is the top seller of RVs in Minneapolis and one of the state's best sources of reliable service.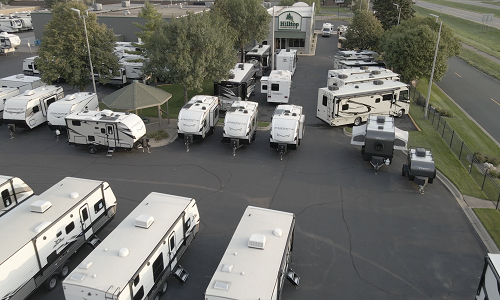 Location
7810 University Ave. NE
Fridley, MN 55432

Sales: 763-571-9103
Service: 763-571-9103
Driving Directions
Hours
RV RENTALS
You don't have to buy an RV or trailer to enjoy a great RV vacation. Hilltop Camper and RV in the Twin Cities has a wide selection of motorhomes and trailers available for you to rent. All of our rental motorhomes and trailers are equipped with many of the same amenities that you would enjoy when buying one for your family to enjoy. When you rent an RV, you save money on food and lodging, and can enjoy modern conveniences and comfort, including hot and cold running water, in the remotest of locations.
RV PARTS & SERVICE
We understand how important the service department is to the success of a business – and one of the best ways to retain customers. We have first rate OEM and aftermarket parts and master certified technicians at your service. Our repeat customer base and service department reviews show us that the efforts of our trained technicians have not gone unnoticed. Courtesy, expedient service and professionalism are top priorities at Hilltop Camper and RV.
Email us
Fill out the information below and a sales representative will contact you as soon as possible.